Finally, a week after the Goa Trip and only a few days after the weekend in Mumbai I have found time to publish these two stories.
There is some powercut going on these days which also affected the internet connection. This made me activating tethering function of my mobile phone and uploading some of the pictures via slow EDGE connection. Don't worry I will publish all of the pics as soon as the internet connection works again in the next few days.
Anyway enjoy reading and watching the pictures!
Goa: This was really an awesome trip together with Anton, Alex, Prateek and Anshul. However it was just a week before the unit-tests in college. If we would not have booked the trip already I would have asked to postpone the trip. The timing issue was actually noones fault because the unit tests were postponed for 2 weeks.
We have taken over night sleeper busses to bridge the distance of approx 500 km between Goa and Pune. The way to Goa was less comfy without bedsheets and non-AC option for 1000 (thousand) Rupee. The way back to Pune was more comfy as we have booked the next higher class with AC and bedsheets for 800 Rupee (eighthundred). Either way it was possible to rest but one got hardly shaken due to Indian road conditions.
Our hotel Callangute Grande was close (approx 500 m) to Callangute Beach. The room was clean and also spacious enough to hold an extra mattress for the third person. The toilett paper was just the crown of all good things at this hotel. Staff was very attendive and had also nice information for us when we needed them.
To roam around in Goa we hired three non-gear scooter. For me it was the first time to drive a scooter. Hence it was good to have not to worry about any gear. Due to pre-season in Goa the traffic was not as horrible as expected. But still people in cars or on scooters tend to enter roads without hesitation and precaution.
On my days in Goa I spend a lot of time at beaches, i.e. Callangute, Baga, Candolim and Anjuna. My personal favourite was Anjuna Beach with 'Janes and Jones' and  'Curlies Bar'. It was very relaxing to sit/lie on the benches with feets in the sand, enjoying a smoothie, fresh fruits  and seafood. Another good option on being at the beach was to just stroll along the beach searching for shells in the sand. Dipping into the sea and playing with the waves was also worth it and a good option to get rid of the sales men/women who were trying to sell mostly useless things on the beach. Some things on the other hand like pine-apples, ice-cream and drinks were usefull. I developed another method to make the sales people leave: I made them counteroffers selling my hat, t-shirt or even chips. Most of them were laughing and saying that this is not the way it should be. I am not looking forward to see these salespoeple again on my holiday in Goa around new years eve.
I also enjoyed some times shopping in Goa. I urgently needed sunscreen and a hat. It was also necessary to buy a shirt which dries pretty fast after having a dip in the sea. Just to look more touristy as I already did with my hat I also bought an Goa-shirt in hawaiian style.
To not leave Goa without seeing anything else apart from beaches we decided to have a look at Fort Aguada. We used to opportunity to hangout for a while, climbing the lighthouse attached to it and walking a short track down to the sea all at the same afternoon. The ride to the fort with the scooters was along the backwaters and offered very nice views to fisher boats and scenery.
Apart from the salespeople another annoying thing on my list was to find post cards. Before I came first time to Goa I expected this place as a very very touristy place. But when I arrived there it was not like what we europeans think of touristy places: postcards in every second store. Finally we found some postcards and stamps in Anjuna. Some of them are already dropped in postbox's others are still waiting to be written.
On the last day in Goa I treated myself with a 90 minute long deep tissue massage for 3370 Rupees. The massage was very pricely and as all good things it didn't last very long.
I just thought about shocking my friends back home with a picture of me wearing a tattoo on my neck. Finally this tattoo is just temporary and will be washed out within the next 4 weeks.
Goas nightlife in preseason is not worth it. Its nice to hangout in a bar but do not expect much people to party. Our one and only attempt to go out was in the second night in Titos road, Kamaki Club and a bit later a bar opposite of that.
Attempts to study did not work out. After 15 minutes studying in the evening my eyes just shut without any possibility to open them again.
My priority in these days was to have seafood at least once a day whilst being in Goa. Scroll through the list of food I have had in Goa and imagine yourself sitting close to the sea enjoying it:
Prawn noodles
Sea food platter and chocolate mousse cake @ brittos
Another sea food platter @ food court Callangute beach shopping street
Marinara pasta and fruit salad as dessert @ St. Anthonys Baga Beach
Tiger prawns @ Callangute beach and coconut-drink as dessert
Finally I can recommend going to Goa in preseason. Not just because we were extraordinary lucky with the weather but also because of less crowded beaches.
Spendings in Goa: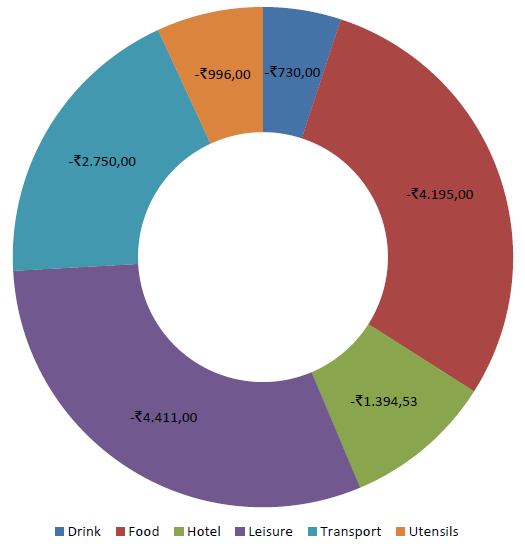 Pictures of Goa:

Pune:
Food and Beverages: 25 days have passed since I have written about mouth watering food and refreshing drinks. Once again scroll through the list and imagine the smell of it.
Chicken Sizzler on FC road
Vegetarian Farmers Pizza @ Smoking Jones JM Road
Sitaphel Ice Cream. I have never had Sitaphel before but it was nice. Can't describe the taste
Chocolate Room for a few times – mexican stuffed pan crepes with chicken mince, another time waffles with honey and chocolate
Mainland China – Restaurant; Crispy Veg noodles. A bunch of vegies in a tangy sauce with crispy noodles
Dinner @ BBQ nation; There are 2 large holes in the table in which the waitress lowerd two wood fired barbecues. These were meant to keep the starters warm. The waitress brought spits with pre fried prawns, veggies and fruits (ananas). Especially the prawns in combination with the ananas were quite good. After the bbq I entered the buffet. The buffet offered soups, veg, chicken and mutton dishes. Also on offer a variety of desserts. Best of the dessert was Gulab Jamun. A very nice evening out.
One more time Momos @ FC Road
Hard Rock Cafe Pune – 10 oz classic burger and fruity Mocktail; Chitrangda treated us Germans because of her birthday; The bar tenders were dancing to the song YMCA all out of a sudden
Chicken Hakka Noodles/Chicken fried ries at campus own food court, also in village and on the way back from Mumbai in Comesum restaurant @ pune station
McDonald breakfast. Expecting pan cakes I was a bit disappointed that they were not on offer in MG Road branch. Instead I had two McEgg and fries.
Some kind of noodles in the Mess. This was very very new to mess food. Anyway taste was ok but not more. Also on the same day there was fruit custard
Chicken spring rolls @ Silverspoon in Village close to campus
Fish & Chips @ Leopolds Mumbai
Hard Rock Cafe Mumbai – 10 oz bbq cheese bacon burger and fruity Mocktail; The bar tenders were dancing to the song YMCA all out of a sudden.
Lassi. Sweet, sometimes with nuts and fruits.
U.S. Pizza on SB Road. The offer for only 200 Rupee sounded quite good: Unlimited pizza, garlic bread, soup as starter, salad buffet and one serve brownie with ice cream. Nevertheless pizza was just ok and only veg. Soup was basically tasteless water with a small sign of veggies. Not recommendable.
Campus hangout: There were quite a lot of birthdays in September: Pooja, Chitrangda, Mohit, Marcel and my brother Benjamin. I celebrated the indian birthdays person and called the german mates on their birthdays.
When I knew that my camera won't come back (see why in "Being out to Pune") I did some research on the internet to know which camera I would like to buy.
Not to forget the uncountable times having tea and chats with mates on the campus.
Being out to Pune: As already explained in the campus hangout there have been a lot of birthdays recently. Chitrangda for example invited Alex, Anton and me to the Hard Rock Cafe in Pune. This was a very nice evening out. The evening was shadowed by the loss of my camera. I stored it in the back pack of Anton this time because I didn't want to carry a back pack. Anyway Anton left the bag in the rickshaw. His attempt to follow the rickshaw with another one was not successful. Another issue was that noone got permission for late out. So we had to be back to hostel by 10:30.
I also spent a few times buying gifts for the birthday people. Mostly I bought chocolates in baskets. We gifted Mohit a cup with the letters "V.O.P – Very Overworked Person".
2 times at least I hung out at Prateeks Place right in the middle of Pune, having a chat, watching a movie or eating nice indian food. Short before the unit tests I enjoyed studying in the sun on the balkony of Prateeks Place.
Unit Tests / Studying process: The unit tests were scheduled in CW 37. Due to placement workshops in the college for 4th years the tests were postponed to CW 39. Anyway my Goa trip was scheduled and partly booked for the CW 38. When I came to know that the tests are scheduled I had to decide whether to cancel Goa in order to study and pay cancellation fees or to enjoy Goa and study as much as I can before as well as in Goa. I decided for the second option. In Goa itself it was hardly possible to study as the days were packed with nice things which made me tired in the evening. So there have been even more topics left to study after Goa. The days after Goa have been good for nothing else than studying.
Each unit test takes 1 hour and offers questions to choose from which is clearly stated in the instruction sentence on the paper.
Now I wait for the results for the 4th year subjects.
The tests should not end up too bad as the marks are calculated by average. Here is one example: Total marks 20; Average marks 6; Everyone with average has second best result. Everyone with 130% of 6 has the best mark.
Still a lot of lectures are cancelled due to countless reasons. Yesterdays for example the lectures were cancelled due to a book introduction which lasted roughly 2 hours.
The internet: Skype works now for a few weeks in a row. Hope it stays like this.
DS: Finally I did all the hand written tasks in this subject which was quite tiring. We finished the topic recursion and started with three searching algorithms: Indexed Sequenced Search, Merge Sort and Quicksort. I have heard about them already apart from the Merge Sort. The preparation for the unit test, the only one which really took place in CW37 (is 2nd year subject), was not very hard as I knew most of the algorithms already.
Not reading the instruction sentence on the paper cost me 10 points. There were two Q1 and two Q2. As all 4 questions were marked with 10 I decided to answer both Q1 which was obviously not the intention meant by the professor. During the test I didn't bother about the numbering of the question and didn't recognize my mistake. I ended up 9 out of 20 points. It is easy to calculate the marks I would have got if I have answered one Q1 and one Q2. In all other unit tests I was reading the instruction line more than once.
NS: The only thing happend in the lectures during the last weeks was that the professor explained one more hash algorithm: SHA-1. This algorithm is not much harder to understand than the MD5. To have at least a few things to ask in the unit test the professor asked us to go through a few documents about Wireless Lan Threats and how to prevent them.
The unit test was not very hard if someone has gone through the documents twice. One of the question was about a Fiestel function but after the test I researched and found out that the the professor meant "Feistel". Anyway I didn't know what it is before and it was not written in one of the documents and not even mentioned in the lecture. Also none of the documents described the DES algorithm but still there was a question in the paper about this encryption algorithm. Luckily the student was allowed to pick 3 out of 4 questions.
CC: The professor has gone through virtualisation in detail before the unit tests but still excluded this topic from them. The topic after the unit test was Google File System, what hardware it needs and how files are stored.
We had our first Cloud Computing Lab and set up some tables on the SalesForce.com website in trial mode. The professor read out loud step by step instructions for the set up. Why is that no self study and moreover why is there a lab?? I could need one in SP instead.
Once Again the unit test was more than fair. The student had to choose 3 out of 4 questions. The most confusing part of the unit test was that Q1 asked for a detailed description of the SPI framework (don't worry about that) and all other questions were asking for more details on some parts of the SPI framework same. If I give a brief description of the SPI framework in Q1 I have to repeat myself in all the other question. Where is the need for that?
ADBS: No additional topics in this subject. How can we finish all topics to the end of this semester? (Only 2 month left and more than half of the semester has passed by)
Questions in the unit test were not hard but easy to misunderstand. I think I answered most of it right and hope for good marks.
SP: The last topics were ambigious grammar (how to cope with it) and Sytax Directed Definition. Both are topics I need to go through once again because they are not easy to understand.
In this subject the unit test was not hard too. In total 6 questions and the student had to answer 5 of it. I didn't get the marks but the professor said one day after that he is impressed by the answers I gave in the unit tests.
Police story: I still wait for the call. Kind of funny, eh?
Book of household accounts September:
Pictures of Pune:
Mumbai: We finished unit tests last week Thursday and were thinking of a weekend activity with possible extension to Tuesday because Tuesday (today) is Gandhis birthday. However Alex prefered to come back to Pune on Sunday because of his lectures on Monday. After celebrating the end of the first unit – tests in the silver spoon our options have been: Rajasthan, Mahabeleshwar, Mumbai, Lonavala and Hyderabad. Finally we decided to go to Mumbai because there is still a lot to see and Mumbai is very easy to reach by bus. Also Rajasthan needs more time for planning than one morning and last minute flights were really expensive. Mahabeleshwar is just a hill station and internet research did not give enough information about things to do there. Our travel guide LonelyPlanet said that the hillstation Lonavala is just wannabe.
We reached Mumbai quite early at half past 10 on friday. I decided for us to have a snack in the Hard Rock Cafe. The snack grew slightly bigger to the size of a 10oz BBQ cheese bacon burger which was mouthwatering. Once again the bar tenders were dancing to the song YMCA. I bought a Kurta in Hard Rock Cafe design. After a few cokes and a fruity mocktail our odyssey to our hotel started.
We told the taxi driver that we are staying at the YWCA (yep second letter is double u) which is close to the Gateway of India. The Gateway of India was found very easy but the 700 meter to the hotel were expanded to roughly 3 km. First he found the YMCA which was actually not far from the YWCA. The taxi driver asked at least 4 times for the directions to our hotel. And once we asked a group of young men who were asking if we are sure about YWCA because it is meant for female. Finally they gave us the directions. Only a small sign was mentioning that this is the YWCA and our first thoughts after seeing a scaffolded building were: What the hell! Anyway the inside looked much better than the outside, the rooms were spacious and clean. Unlike any other hotel we booked before in our room were 3 single beds. Once again here was toilet paper in the washroom. Free WiFi was very helpful in doing research for sightseeing activities in Mumbai. Breakfast timings was the only negative aspect on this hotel: 7:45 to 8:45 AM. After 8:45 AM they start to rearrange tables in the breakfast room and after 9 AM they ask you to finish breakfast.
On Saturday we visited the caves on Elephanta Island. A 30 minute ferry ride offered us a different view to the Gateway of India and brought us to the island. We met two German girls on the ferry with whom we spend the rest of the day. After climbing the stairs on the Island we reached the caves. Basically the caves were some rock-cut architecture. It was quite nice to catch some shade in the caves because the sun was burning hot. Also nice to watch the monkeys on the island which are doing all kind of crap.
Just after being back to mainland we decided to enjoy tea time in the Taj Palace hotel opposite of the Gateway of India. The Cafe was very posh. Thinking about the weather outside I refrained from drinking a hot chocolate and decided to have a mocktail with coke, lime, orange and ice. The biscuits on the table was a little something from the hotel. The trip to the washroom was the greatest experience in that hotel. After finishing my business a footboy opened the tap for me, put some soap on my hands, reached me the towel and put the towel for me in the towel bin.
We tried to go to Dhobi Ghat by cab. After some driving the cab driver said that it is not possible to reach it by cab because of the Ganesha festival going on in the city. He gave us directions how to walk. It didn't take long until we encountered the festival crowd. Anton made friends with an Indian person who leaded us through the crowd and to Dhobi Ghat. On our way through the crowd Anton and Alex got involved in the festival dancing. I already enjoyed only watching the festival activities. As we reached Dhobi Ghat, the place where 600 indians wash restaurant/hotel laundry daily, actually no one was washing because it was already past 7 PM.
We went for dinner to Leopolds which was again very nice. To conclude the day we hung out at the Marina Drive and walked back to the hotel.
On Sunday morning we decided to cool down at the Water Kingdom Mumbai because the outside temperature was again very high. Water Kingdom is one of Asias largest Water Theme Parks. The only problem we faced was the distance between our hotel and the water park: 55 km. We searched for about 20 minutes for a train connection and hoped that everything will go well when we board and change the train. When we left the hotel I asked a taxi driver just for fun how much it will be when he drives us to the water park. His offer was quite surprisingly: back and forth inclusive waiting period will be 1400 Rupees. We took his offer and spend 2,5 hours in his cab to get to the ferry point where the ferry to the water park departs. On the way our driver explained us a few sights we were passing. Traffic on the way was insane!
As we did not have planned a trip to a water park we didn't have any swim wear and towels with us. Hence we bought all equipment. The park itself did not offer a lot of activities. A hand full of slides and a large wave swimming pool. Actually there have been a couple of larger attractions as well but the queues to those were quite long. As we had only 2,5 hours of time in the park it was not an option to queue for 1 hour. A funny situation happened in the wave pool: A couple came closer and tried to kiss. When the life guard saw what was happening he showed them the sign to get apart. So far so fine. Another 10 minutes later the couple shifted on the other side of the pool so that the life guard couldn't see what they were doing. And of course they started all over again. We were having a shower at the end of our stay in the water park. A few indians were looking quite confused and laughing seeing 3 germans showering naked.
The taxi driver brought us within 2,5 hours safely to the Dadar bus station. Confidentially our driver had to fix one flat tire on the way. Once entered the bus to Pune our trip to Mumbai has ended. Three and a quarter hours later at quarter past 11 PM we reached Pune Railway station where it was raining like hell. We headed to Prateeks place for an overnight stay after a snack stop in the Comesum restaurant at the railway station.
This time our Mumbai trip was packed with nice things. I would like to come back one time to enjoy more time roaming around in Mumbais north and maybe to enjoy the rides in Essel Theme Park close to Water Kingdom.
Pictures of Mumbai: